[CBTNuggets] Cisco UCS Essentials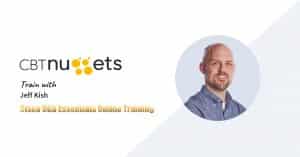 Description:
Cisco UCS Essentials Online Training
In this intermediate Cisco skills training, Jeff Kish covers the basic operability and terminology of Cisco Unified Computing Systems (UCS).
Cisco UCS allows you to easily shift loads, perform hardware maintenance, and effortlessly scale all your resources from a single point of management — as long as you know what you're doing. Though this USC Essentials skills training maps to a CCNP exam, Jeff breaks down the topics so anyone can get a basic rundown on UCS deployment and maintenance or just see why UCS is a popular choice.
Once you're done with this Cisco UCS Essentials training, you'll know how to configure UCS for RBAC, install a hypervisor using virtual media, upgrade a UCS environment by selecting and downloading the appropriate firmware, and schedule a maintenance window for an upgrade.
For IT managers, this Cisco training can be used for 642-999 DCUCI exam prep, on-boarding new network administrators, as a Cisco reference resource, or curated into individual or team training plans.
Note: The Cisco CCNP Data Center 642-999 DCUCI exam associated with this course was retired July 3, 2017. However, this course still retains value as a training resource.
Cisco UCS Essentials: What You Need to Know
For any network administrator using this training for exam preparation, our CCNP Data Center course maps to the 642-999 DCUCI exam objectives and covers topics including:
• Fundamental and advanced networking elements of UCS environments
• Components of Fibre Channel (FC), such as fabrics, zoning, and port types
• Backup types of UCS, including logical, all, system, and full state
• Maintenance windows for UCS upgrades
• Components of UCS multitenancy, including organizations and locales
• UCS storage networking, such as VSAN, DAS, unified ports, NPIV, NPV, and FLOGI
Who Should Take Cisco UCS Essentials Training?
This Cisco UCS Essentials training is considered administrator-level Cisco training, which means it was designed for network administrators. This basic operability and terminology skills course is designed for network administrators with three to five years of experience with data center infrastructure.
New or aspiring network administrators. Most new network administrators have a few years before they need to worry about tackling the 642-999 DCUCI exam on their way to earning their CCNP Data Center. But that's not to say this Cisco UCS Essentials course isn't helpful: the terminology related to data center administration alone is complicated and challenging — to say nothing of the actual concepts of installing, maintaining, backing up and storing data across multiple locations. With this Cisco UCS Essentials training you'll have them down cold.
Experienced network engineers. For network administrators with a few years of experience, the CCNP Data Center certificates are a prestigious indicator of proficiency and excellence in network administration. This Cisco UCS Essentials course can help you prepare for earning yours by cementing your knowledge about computing hardware, virtualization support, switching fabric, and management software in a data center. The 642-999 DCUCI exams are no joke, but this training will make sure you're prepared.
Skills You'll Learn in this Course:
• UCS Concepts
• UCS Basic Networking
• UCS Advanced Networking
• UCS Storage Networking
• UCS Advanced Storage Networking
• UCS Service Profiles
• UCS Administration
• Describe Cisco HyperFlex
Size: 1.46 GB
https://www.cbtnuggets.com/it-training/cisco/ucs-fundamentals.