[MasterClass] SPIKE LEE TEACHES INDEPENDENT FILMMAKING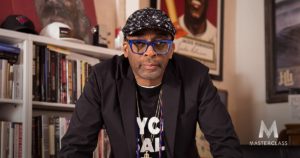 Make films with an impact
Spike Lee didn't just direct his award-winning 1986 feature debut, She's Gotta Have It. He was also the writer, star, truck driver, location scout, electrician, and caterer—because that's what it took to get his film made. In his first-ever online class, the visionary behind Do the Right Thing, Malcolm X, and BlacKkKlansman lets you in on his uncompromising approach to filmmaking. Learn about writing, self-producing, working with actors, and making movies that break down barriers.
LESSON PLAN
01-Introduction
Meet your new instructor, writer/director/producer/professor—Spike Lee. Spike explains what he hopes you'll gain from his class: the tools of film grammar—or visual storytelling—and the DIY spirit to make your own original, independent films.
02-Putting Words On Paper
Spike provides you with a blueprint of his writing process to help you write your script. Learn his index card technique, his disciplined writing practice, and his advice for writing with a partner.
03-Storytelling
Spike teaches you his techniques for writing bold, distinct characters, capturing two sides of a story, and creating stories that react to social injustice.
04-Speaking Truth to Power: On the Waterfront
Breaking down the director's choices in one of his favorite films, Elia Kazan's On the Waterfront, Spike demonstrates how cinema can be a powerful tool for speaking the truth.
05-Spike's Film 101s Pt. 1
Learn Spike's tips for creating realistic budgets and shooting schedules (and sticking to them), working on location, and how to make your crew feel appreciated.
06-Case Study: Financing Malcolm X
Spike recounts his battle to secure additional funds for Malcolm X to show you how self-reliance, self-determination, and dedication to your story can help finance a project.
07-Importance of Casting
"The wrong actors, the wrong roles could turn out the wrong movie." Spike shares his tips for successful casting and his experiences casting some of his most infamous roles.
08-Collaborating With Your Director of Photography
Learn what to look for in a director of photography, including how to "audition" a DP and how to create a plan of action, once you've found the right collaborator.
09-Storytelling with Camera Coverage
Spike walks you through the iconic camera angles and techniques that have come to define his visual style. Then, he breaks down how he uses each to increase tension and heighten the drama.
10-Storyboards: Malcolm X
Using his original storyboards for the assassination scene in Malcolm X, Spike illustrates the construction of a scene, and the level of detail required to create the illusion of chaos.
11-Spike's Film 101s Pt. 2
For Spike, the take is a sacred moment. Learn his rules for managing your crew and running a set effectively in order to deliver the best possible takes.
12-Directing Actors
How can you inspire the best performance from your actor? Spike teaches his techniques for directing your actors with sensitivity and respect, including how to communicate and establish trust.
13-Collaborating and Improvising with Actors
Spike believes that a good director both commands and surrenders to the moment. Using scenes from He Got Game and School Daze, he shares tips on how to harness improvisational moments and adjust to story changes on-the-fly.
14-Opening Title Sequences
Analyzing opening title sequences from Mo' Better Blues, 25th Hour, and BlacKkKlansman, Spike teaches the art of establishing tone in the first few minutes of your film.
15-Music Is Key
Spike shares his strategies for enhancing drama through music. Learn his advice for working with a composer, turning source into score, and using music as a counterpoint.
16-Editing
By taking a look at the inter-cutting technique in BlacKkKlansman, Spike demonstrates how he was able to create heightened drama and tonal balance in pivotal scenes.
17-Film as an Agent of Change
Spike discusses the filmmaker's responsibility to bring diversity to the film industry—both on screen and behind the scenes.
18-Storytelling for Documentaries
Examining his powerful nonfiction films When the Levees Broke and 4 Little Girls, Spike shares insights on how to handle true stories with passion and respect.
19-Closing
In his parting words, Spike reflects on what it takes to be an independent filmmaker and encourages you to take his tools and be a student of cinema.
Size: 2.61 GB
https://www.masterclass.com/classes/spike-lee-teaches-filmmaking.