[Skillshare] How to Make Engaging Animated Videos with Keynote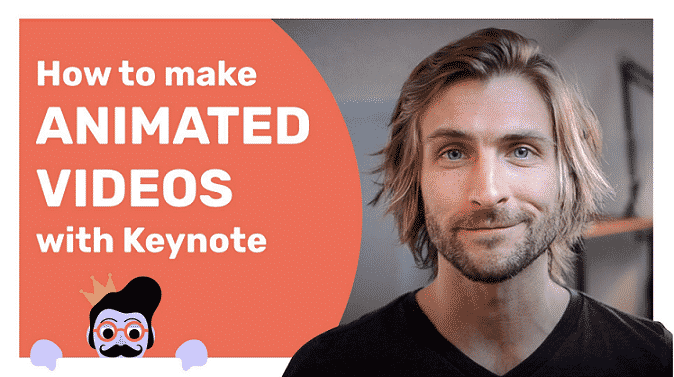 Discover how to transform your Mac's free presentation software into a powerful video maker.
When it comes to popular content formats, video is the reigning king. And it's showing no signs of giving up the throne anytime soon.
Just consider the facts: Video has been found to grow revenue 49% faster, drive 12x more engagement on social media, and even increase organic website traffic by 157%.
But you already know making videos is a smart business decision. Otherwise, you wouldn't be here. So let's address the first part of the question: Why use Keynote?
I'll tell you why.
Most video animation software comes with high costs and steep learning curves. And though there are many online animation tools trying to solve this problem, they require an internet connection and recurring payments.
If you own a Mac, however, Keynote is easy to use and free.
"But Keynote is presentation software," you object.
Sure. Keynote can make presentations. But it also comes with 30 cinematic transition effects for objects and text, more than 700 customizable shapes, and many other useful features for making videos.
In this course, you'll discover the settings and techniques necessary to unlock Keynote's potential as a robust animation tool. We'll cover how to:
• Set up and use Keynote as a video creation tool
• Animate objects, text, and transitions
• Add music, sound effects, and voiceovers
• Create overlay graphics (such as lower thirds) for live action videos
• Resize videos for Facebook Stories, Instagram, and other major platforms
… and a lot more. Just check out the videos above for an idea of what to expect.
Is this course right for me?
I built this course with marketers, social media content creators, and entrepreneurs in mind. But I'm confident that anyone interested in learning how to make simple animated videos will get value out of these lessons.
How can I apply what I learn in this course?
Keynote is an excellent tool for making explainer videos, promotional videos, tutorial videos, training videos, and more. You can also use it to create overlay graphics — such as animated lower thirds — that you can then import into a video editor. (This course covers how to do that using iMovie, another free Mac app.)
What do I get with this course?
• 70+ minutes of on-demand training videos
• 4 follow-along exercises with template files
• 10 most popular royalty-free songs from Music for Makers ($190 value)
• Custom illustrated character made and editable in Keynote
• 17 blank social media templates set to best practice dimension ratios
• Unrestricted lifetime access
What do I need for this course?
To get the most out of this course, you'll need:
• An Apple Mac computer* (e.g., iMac, MacBook Pro, MacBook Air)
• The latest version of Keynote (likely installed already, but if not, you can download for free from the app store)
• A good internet connection (to watch the course videos)
*There is a web/iCloud version of Keynote. But it's more limited than the desktop version — which is for Mac computers only. Some of what I present in this course might be possible with PowerPoint for Windows or OpenOffice Impress for Linux. However, this course is not recommended for non-Mac users.
Skills in this Class
• ANIMATION
• CHARACTER ANIMATION
• VIDEO PRODUCTION
• KEYNOTE
• VIDEO EDITING
• CREATIVE SOCIAL MEDIA MARKETING
• 2D ANIMATION
Projects & Resources
Download these bonus materials and resources to follow along with the course's exercises and make awesome animated videos:
• 4 template files for course exercises
• 10 most popular royalty-free songs from Music for Makers ($190 value!)
• Custom illustrated character made and editable in Keynote
• 17 blank social media templates set to best practice dimension ratios
(Visit Official Page to get the above required files that given by the course author)
About Author
Hi, I'm Logan Nickleson.
After working as a content marketing strategist for seven years, I left my job to focus on growing my business, Music for Makers, and creating other products that help people make awesome stuff.
Created by – Logan Nickleson, Founder of Music for Makers
Language – English
Released – 2019
Size: 705.24 MB
https://www.skillshare.com/classes/How-to-Make-Engaging-Animated-Videos-with-Keynote/1125470007.