[MasterClass] JODIE FOSTER TEACHES FILMMAKING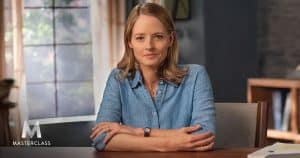 Storytelling in action
Go behind the scenes with two-time Oscar-winner Jodie Foster, star of Silence of the Lambs and director of Little Man Tate. In her first online film class, she'll teach you how to bring your vision to life. Jodie discusses her experience on both sides of the camera to guide you through every step of the filmmaking process, from storyboarding to casting and camera coverage. Everyone has a story. Learn how to tell yours.
LESSON PLAN
01-Introduction
Meet your new instructor: Oscar-winning actor and director Jodie Foster. Jodie talks about her perspective from both sides of the camera, what you'll learn in her class, and why filmmaking means so much to her.
02-Finding Your Personal Story
To help you find the story you want to tell, Jodie gets personal. She speaks candidly about failure, identity, and self-knowledge so you can learn her process for authentic filmmaking.
03-Exploring the Big Idea in Film
Jodie breaks down the concept of the "big idea" in film. You'll discover how you can use it as a tool to hone your storytelling skills.
04-Jodie's Short Film: Building Your Story Into a Screenplay, Part 1
Inspiration can come from anywhere. Jodie translates a real-life experience into a dramatic scene with Scott Frank, the screenwriter of her first film, Little Man Tate.
05-Creating the Vision for Your Film
As a director, your job is to communicate with your collaborators to create the vision for your film. Jodie discusses the tools she uses so you can bring your ideas to life.
06-Deconstructing Visual Choices: The Beaver
Jodie breaks down a storyboard sequence from her movie The Beaver to explain how she chose shots that help convey the emotional message of the scene.
07-Jodie's Short Film: Building Your Story into a Screenplay, Part 2
Jodie reunites with Scott to continue workshopping the draft screenplay inspired by her real-life experience. Learn how Jodie collaborates with writers to help build character, tension, and realism into a scene.
08-Jodie's Short Film: The Screenwriter-Director Collaboration
Jodie and Scott go deeper into how to make the relationship between a director and a screenwriter more fruitful and effective.
09-Jodie's Short Film: Constructing a Scene
Using the short scene that she wrote with Scott, Jodie demonstrates how you can begin to visualize your story by mapping out a shot list.
10-Prepping and Scheduling
Prepping and scheduling is critical to your film's success. Learn the tools and methods that Jodie uses in her films that you can apply to your own.
11-Casting
Jodie argues that casting is one of the most important decisions you can make as a filmmaker. Learn how she approaches the casting process and what you can look for in an actor when casting your own films.
12-The Acting Process
Drawing from her own acting process, Jodie teaches you how to inspire a powerful and honest performance from an actor.
13-Directing Actors
Jodie teaches you how to work with an actor on set to create a compelling scene.
14-Shooting Your Film
Directing a film is a series of choices and compromises. Learn about the tools Jodie uses to track her film while shooting, including set notes and reaction shots.
15-Selecting a Performance Case Study: Jack O'Connell in Money Monster
Using Jack O'Connell's performance in Money Monster, Jodie shows you what she considers when selecting a performance from multiple takes. Learn how to review dailies to make choices for your own film.
16-Editing
Learn how Jodie approaches the editing process as she breaks down a scene put together from raw footage for Money Monster.
17-Music
Jodie uses music as a tool bind the seams of a movie together. With examples from her own films, Jodie teaches you how music selection can enhance your film.
18-Conclusion
Jodie concludes her class with a note on the future of filmmaking, female filmmakers, and her final words of wisdom
Size: 3.40 GB
https://www.masterclass.com/classes/jodie-foster-teaches-filmmaking.