[Apress] iOS Device Group Management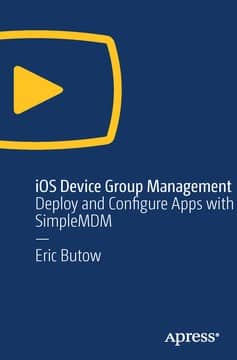 Configure management profiles using Apple and SimpleMDM tools as discussed in the book Pro iOS Security and Forensics. You will gain a broad overview of SimpleMDM, which is a simple but full-featured MDM (mobile device manager) that allows network administrators to manage their companies' iPhones and iPads.
After watching this video, you will be able to assign administrative roles, manage app configurations, and create custom profiles. You'll also learn to create and work with group-level accounts and lock employees' devices to use only approved apps. This video will provide all the basic information you need to keep employees' devices safe and on task.
What You Will Learn
• Set up two-factor authentication
• Apply configuration profiles to user devices
• Create webhook events
Who This Video Is For
Experienced iPhone and iPad managers who want to learn how to perform advanced tasks using SimpleMDM. If the viewer doesn't have SimpleMDM, they can still use the concepts presented to apply to their own MDM app. The video presumes that people have already read the book Pro iOS Security and Forensics or are already experienced iPhone/iPad administrators.
Table of Contents
• Introduction 00:01:56
• Administrative Roles 00:08:36
• Deploying Apps and iOS Managed App Configurations 00:10:08
• Using Configuration Profiles and Custom Configurations 00:10:41
• Using the API and Webhooks 00:10:31
• Setting Custom Attributes 00:09:15
• Implementing Single App Mode 00:10:41.
Created by – Eric Butow
Release Date – January 2019
Language – English
Size: 643.26 MB
https://www.oreilly.com/library/view/ios-device-group/9781484244074/.