[SkillShare] Baugasm™ Series #1 – Create Experimental Gradients and Posters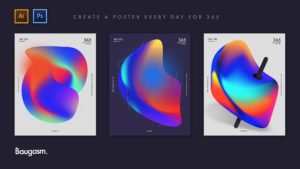 About This Class
This class is based on one of the techniques i use to design for  Baugasm Posters
In this class you are going to learn how to create gradients in Illustrator and shape them in Photoshop.
Hopefully after this class you will be able to reproduce this technique to recreate posters and designs with your own imagination
Project Description
As an assignment for this class, i would really like to see what you can achieve with this technique and create your own posters.
Guidelines:
Use illustrator to create the gradients
Use Photoshop to Shape it and style it.
If you are stuck on anything i will be able to provide some help and feedback.
Created By Vasjen Katro
Duration 33m
Size: 271.99 MB
https://www.skillshare.com/classes/Baugasm%E2%84%A2-Series-1-Create-Experimental-Gradients-and-Posters/13878749.