[Pluralsight] Securing Applications on AWS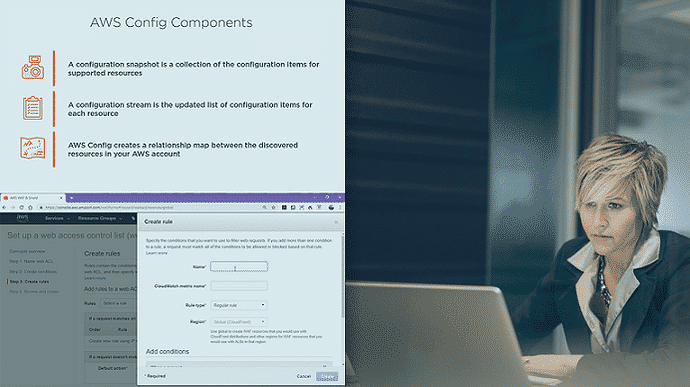 Learn how to use CloudWatch for monitoring, CloudTrail for auditing, Config for resource compliance, and Trusted Advisor for warnings. Explore how to protect against DDOS attacks with the WAF and use the API Gateway for creating and hosting APIs.
Description
Many applications at AWS are over-hosted. In this course, Securing Applications on AWS, you will gain knowledge about how to protect over-hosted applications at AWS using a variety of powerful management tools provided by Amazon. First, you will look at the Web Application Firewall (WAF) and see how to protect against unwanted access from incoming public traffic, you will explore the API Gateway and how you can create and host APIs at AWS, and you will dive into Amazon Cognito which allows you to create user and identity pools that allow internal and external authentication and single sign-on access. Next, you will look at the operation of CloudWatch and its use of metrics which allow you to manage all of your AWS resources, as well as CloudTrail which helps to monitor all activity in your AWS account. Finally, you will see how to use TrustedAdvisor to alert you to account issues, and AWS Config to set rules for managing your infrastructure resources. When you are done with this course, you will know how to monitor, audit, protect, and take many other actions towards protecting your applications hosted on AWS.
Level
• Intermediate
About Author
Mark is a former electronic design technologist turned Microsoft and IBM SoftLayer cloud geek. Mark has created many instructor led, e-learning, and self-paced courses over the last 15 years from Active Directory to Group Policy and enjoys training and sharing information to help people understand technology. He is also an avid musician and composer.
Created by: Mark Wilkins
Language: English
Subtitle: Included
Updated: Jun 28, 2019
Size: 369.80 MB
https://www.pluralsight.com/courses/securing-applications-aws.