[Packtpub] SEO Secrets of Google Expired Domains and 301 Redirects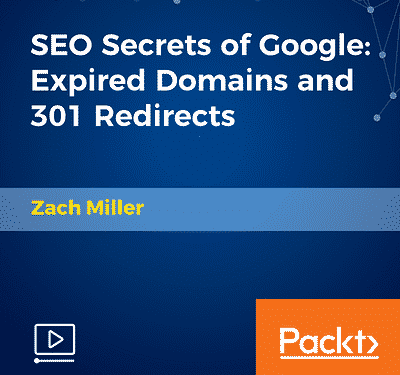 Video Description
Did you know that Buying EXPIRED DOMAINS and then redirecting them using a 301 Redirect will transfer 100% of THEIR SEO to YOUR SITE!!! It's true. Here's the catch… certain metrics need to align with your site, keywords & optimizations if you are going to reap the FULL BENEFITS of buying expired domains. Even cooler, I'm going to teach you how to get THE SAME SEO… but WITHOUT BUYING A DOMAIN! Yeah, there are a lot of cool secrets inside this course. In fact, I know about 25% of my students will DOUBLE THEIR SEO from just 1 small change in their .htaccess file. And if you don't know what that is… then, this course is for you! Get even better SEO, better rankings, and without having to do any real "legwork" of (take your pick): creating high-quality & original content, videos, image editing, link building, time (aka patience), and so much more. You can SKIP ALL THIS with the use of 301 Redirects and the use of expired domains (whether you want to spend money buying them OR NOT) you can still get valuable links & link juice from them with this secret I'll teach inside.
Style and Approach
This course will help you with SEO and ranking better.
What You Will Learn
You'll know the basics of 30X Redirects
You'll know how to redirect any page or website using a variety of methods
You'll know how to code the 301, 302 & 307 redirects through your .htaccess
You'll know how to use these redirects to YOUR ADVANTAGE and get higher SEO rankings in Google
You'll know how to transfer 100% of your SEO link building from one website to another
You'll know how to buy expired domainsYou'll know how to choose the best-expired domains based on different metrics we cover inside
You'll know how much to pay for a certain domain and if it's valuable TO YOU and your business
You'll know how to buy domains with Key Relevancy to your niche/industry and benefit from the YEARS of work others put into link building (and scoop it up IN MINUTES)
Created By Zach Miller
Released Date July 30, 2018
Duratiom 1h 20m
Size: 2.06 GB
https://www.packtpub.com/web-development/seo-secrets-google-expired-domains-and-301-redirects-video.