[Packtpub] Hands-On Blender 3D Modeling [Video]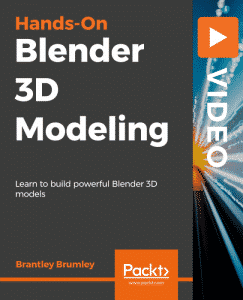 Authors
Brantley Brumley – Brantley has been a game and computer enthusiast since he could read, maybe even a little before that. It has been a few years since he branched out and has been trying to do what he loves full time, which is, create games. He successfully created and published his first 2D game, in the App store, in early 2018. Since then, he has been working on a 3D game.
He found another love of his, creating 3D art for the game! He also owns his own photo booth company and works a lot with photo editing software (IE photoshop, GIMP) which used hand in hand with 3D modeling software, become quite the powerhouse. You can find him on LinkedIn and check out his 2D game, Farting Frankie, on the app store!
February 2019
6 hours 4 minutes
Create usable and powerful 3D models to becoming a professional Blender 3D artist.
More Information
Learn

Use Blender 3D, from installation to masterful 3D art
Go step by step from Blender to game, or Blender to 3D print, or Blender to movie screen!
Create the Base Mesh for the objects you want to create
Sculpt using MultiRes modifier and Dynamic Topology sculpting
Understand the pros and cons of both methods
See the importance of Re-Topology, which is especially important in the gaming industry
Unwrap and texture your new 3D model by bringing it to life with some color
Rig a character to prepare it for animation, and give it some bones
Export and create Texture maps to bring your creation from Blender 3D to the world

About
So, you've seen the latest movies and video games and want to be part of the action. Maybe you're an indie game developer who needs some cool assets for your project, or an artist looking to branch out into the ever-growing 3D industry. Well, you can! 3D modeling is easier than you think and you can start creating your own art.This course will show you the tools and skills necessary using the free Blender 3D software. And the best part is you'll be creating in real time, as well as learning everything you need to know on your path to 3D artistry! This course will take you from A-Z, whether it be for movies, games, or 3D printing. It's up to you to decide! If you want to learn Blender and make headway in the 3D modeling world, then this course is for you!

The code bundle for this video course is available at – https://github.com/PacktPublishing/Hands-On-Blender-3D-Modeling

Style and Approach

Step by step, we'll create 3D art. With simple instructions and visualization of everything happening on the screen, you can easily follow along and absorb the content. The course will be interesting and hands-on, with useful tips and tricks that will help you speed up the process.

Features

No prior Blender experience needed! This course will take you from the beginning to the end in real time and with usable examples
With step-by-step videos and instructions, you'll be creating 3D art in minutes
Apart from the loads of content, you'll export and import your 3D art into Unity 3D, a professional gaming engine that's free to use!

Course Length
6 hours 4 minutes
ISBN
9781789953213
Date Of Publication
28 Feb 2019
Size: 3.19 GB
https://www.packtpub.com/game-development/hands-blender-3d-modeling-video.