[MasterClass] DOMINIQUE ANSEL TEACHES FRENCH PASTRY FUNDAMENTALS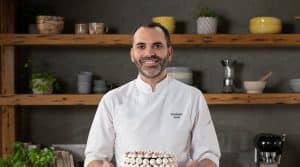 The Art of French Pastry
Celebrated for his innovative twists on classic desserts, Cronut® creator and James Beard Award-winner Dominique Ansel has been called the "world's best pastry chef." In his MasterClass, Dominique teaches his essential techniques for perfect pastries. Learn baking and more with his precise methods, add classic recipes to your repertoire, and explore texture and flavor inspirations to delight friends and family with your own decadent desserts.
LESSON PLAN
01-Introduction
Meet your new instructor: James Beard Award-winning pastry chef Dominique Ansel. Step into Chef Dominique's bakery as he shares his vision for the class—to teach you the fundamentals of pastry and a curated selection of stunning desserts.
02-Dominique's Journey: Beauvais, Boulud, and the Bakery
Learn Chef Dominique's unlikely path from a working-class town in Northern France to the pastry kitchen of a Michelin-starred Manhattan restaurant—and finally—his very own bakery.
03-Mini Madeleines
Chef Dominique believes that there is a precise moment in which a dessert is at its best. Learn how to make mini madeleines, pillowy cakes that can be baked and served within five minutes—when they are at their peak.
04-Fruit Tart Base: Vanilla Sablé Shell
Chef Dominique teaches you how to make a vanilla sablé shell that serves as the base for a set of stunning fruit tarts in the chapters to come. Learn to fonçage and blind-bake pastry dough for a tart shell that serves as the optimal canvas for endless variation.
05-Fruit Tart Filling: Pastry Cream
Pastry cream is an indispensable part of a baker's arsenal. Learn to make Chef Dominique's classic version, and how to apply the infusion technique to create complementary flavors.
06-Fruit Tart Filling: Quick Strawberry Jam
Chef Dominique teaches you to make a simplified strawberry jam that you'll use as a robustly flavorful second filling in the strawberry fruit tart.
07-Fruit Tart Finishing: Classic Strawberry Presentation
For Chef Dominique, presentation is one of the most important elements in making pastries. Learn his techniques for selecting, slicing, and glazing fruit, and how to build a beautiful strawberry tart that will impress your family and friends.
08-Fruit Tart Finishing: Modern Apple Presentation
Chef Dominique demonstrates his creative methods for piping pastry cream and peeling apples, as well as how to incorporate color and pattern to assemble an apple tart that is as visually arresting as it is delicious.
09-Chocolate Cake Base: Biscuit
A favorite of Chef Dominique's, biscuit is a French-style sponge cake that is light and gluten-free. Learn Chef's tips for mixing, baking, and cutting perfect biscuit layers that will be used to build a delectable chocolate mousse cake.
10-Chocolate Cake Accent: Swiss Mini Meringues
Learn Chef Dominique's method for making light and airy meringue and his technique for piping wonderfully crunchy meringue kisses. These mini meringues will be used in Chapter 12: Chocolate Cake Finishing.
11-Chocolate Cake Filling: Mousse
Chef Dominique's silky dark chocolate mousse relies on smooth ganache and lightly-whipped cream. Learn his techniques for perfectly textured mousse that can be enjoyed on its own or as a layer for chocolate cake.
12-Chocolate Cake Finishing: Assembly & Presentation
Learn how to assemble the cake, coat it with a stunning, slate-black mirror glaze, and top it with mini meringues for a finished dessert as intricate as it is whimsical.
13-Bonbon Base: Tempered Chocolate Shell
Chef Dominique demystifies tempered chocolate by demonstrating two techniques that result in chocolate bonbon shells with a magnificently glossy finish.
14-Bonbon Filling: Dark Chocolate and Banana Passionfruit Ganache
Learn how to make creamy, rich ganache that can be infused with flavors—like the banana-passionfruit variation in this chapter. Then, learn how to fill, cap, and unmold perfect bonbons.
15-The Perfect Croissant
What the omelet is to savory chefs, the croissant is to pastry chefs. Learn the techniques that make for golden, flaky croissants – like dough lamination and making starter – and watch as Chef analyzes croissants from his team around the globe.
16-Case Study: The Cronut®
Dominique takes you inside his New York bakery to share the origin story of the dessert that launched a thousand imitations – the croissant-meets-donut mashup Chef coined the Cronut® – and how you can use emotion to create your own memorable pastries.
17-Thinking Creatively About Pastry
Chef Dominique concludes his MasterClass by showcasing some of his most inventive creations from Dominique Ansel Bakery and leaves students with parting words of encouragement and inspiration.
Size: 1.92 GB
https://www.masterclass.com/classes/dominique-ansel-teaches-french-pastry-fundamentals.