[Udacity] Machine Learning Engineer Nanodegree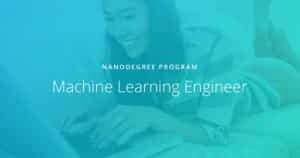 In this program you will master Supervised, Unsupervised, Reinforcement, and Deep Learning fundamentals. You will also complete a capstone project in your chosen domain.
Why Take This Nanodegree Program?
In this program, you'll master valuable machine learning skills that are in demand across countless industries. Investment levels in this space continue to rise, thousands of highly-valued startups have entered the field, and demand for machine learning talent shows no signs of leveling. Program graduates emerge uniquely prepared to excel in machine learning roles.
Effective and Engaging Content
Get started learning Machine Learning through interactive content like quizzes, videos, and hands-on programs. Our learn-by-doing approach is the most effective way to learn Machine Learning skills.
Beneficial and Supportive Project Review
Beneficial and Supportive Project Review
Advance quickly and successfully through the curriculum with the support of expert reviewers whose detailed feedback will ensure you master all the right skills.
AWS Credits to Deploy Your Models
Get free access to Amazon Web Services – the same platform used by Machine Learning Engineers around the globe – to build and deploy your models.
Career-ready Nanodegree Program
Learn skills that will prepare you for jobs in machine learning and you'll be ready to deliver immediate value to any organization. You will also work with experienced careers professionals on crafting your LinkedIn and Github profiles.
Size: 12.78 GB
https://www.udacity.com/course/machine-learning-engineer-nanodegree–nd009t.