[Pluralsight] Creating Web Applications with Go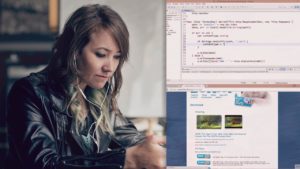 This course takes users with a basic understanding of the Go language, and deepens that knowledge by working through the creation of a full-featured web application that implements the model, view, controller (MVC) design pattern.
Description
This course introduces the Go language as a tool for solving practical problems; in this case, creating a web-application. It assumes that the user has a basic understanding of the language, but not much more. Over the span of the course, aspects of a complete web application are built with an eye on practical application of the language. Additionally, the course will be focused on the core Go libraries, as opposed to plug-ins. To that end, only two plugins are necessary: one to provide parameterized routes (a basic requirement for modern web applications), and a database driver to provide connectivity to a database (none of which are bundled in the Go core library.)
Created By Mike Van Sickle
Date: 21-04-2015
Updated Date: 21-04-2015
Level: Intermediate
Size: 686.38 MB
https://www.pluralsight.com/courses/creating-web-applications-go.